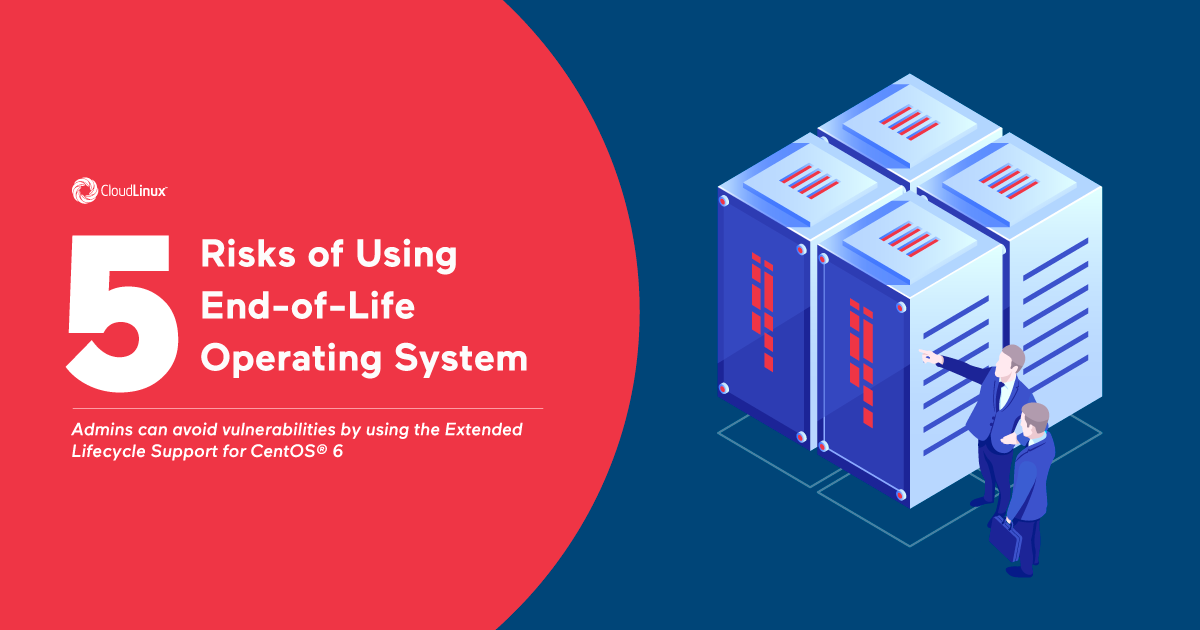 Software can run forever, at least in theory. In reality, almost every software product eventually reaches the end of its life. It's not that the software bids a tearful farewell to family and friends before slipping off into the great beyond. Rather, the company that makes it simply stops issuing security patches for the product. This is usually a rather loud hint that it's time to buy the new version. But, what if you're still running the old end-of-life or "EOL" version and you don't have the time or budget to update it?
You're in trouble, basically. If a server does not get continued security updates, it grows increasingly susceptible to newly discovered vulnerabilities and associated attacks. CentOS® 6, for example, reached EOL on November 30 of this year. It can be a serious challenge for organizations to migrate to the newest version. Yet, they cannot live without ongoing support either. Luckily, new options are coming to the rescue.
EOL Risks
Running an operating system that's EOL creates more security risk exposure than simply running an unpatched OS. At least, if you're just missing a patch, you can always roll back the system, install the patch and restart. With EOL, you have no recourse.
End-of-life software dangers include:
Incompatible software — New releases of software have been optimized for the most recent operating systems. With an EOL OS that you cannot upgrade, you may be forced to continue running older applications. These apps themselves are probably facing their own EOLs, too.

New vulnerabilities — When a vendor stops issuing security patches, your system becomes a sitting duck for hackers—who will quickly start searching the globe for people who continue to operate in this defenseless mode. Using firewalls and anti-malware countermeasures are not enough to protect your servers from attacks that exploit unpatchable vulnerabilities.
Added expense — The operating costs required to maintain and fix bugs on an OS that's post-EOL can be quite high. In addition, you should estimate the business impact, in dollars, of an outage caused by the EOL OS.
Compliance challenges — Regulatory compliance frameworks usually mandate regular patching. The audit and certification process for systems in regulated industries like healthcare and finance may prohibit the use of EOL systems.
Poor performance and reduced reliability — Running legacy apps on EOL OS's leads to performance and reliability issues. Aging systems tend to break down more often than their more up-to-date and patched counterparts. It's wise to think through the effects of the inevitable downtime that will come with an EOL OS.
What To Do when CentOS 6 Goes EOL
You can avoid these risks if you are running CentOS 6. Instead of replacing the OS or trying to upgrade to CentOS 7, you can avail yourself of CentOS® 6 Extended Lifecycle Support (ELS) from CloudLinux. This solution allows you to continue working with CentOS® 6 beyond November 30.
You will likely see this as good news. You may want to keep using CentOS 6 because migrating to the newer release is probably not high on your list of priorities. It will be time-consuming and costly. And, if you are running multiple servers on CentOS 6, it's going to be a huge project to do the migration. It's not uncommon for organizations to be running thousands of CentOS 6 servers!
Plus, if you update to CentOS 7, you need to know that it, too, will go EOL in four years. You could upgrade to CentOS 8, but the reality is that neither v7 or v8 is popular or stable enough to rely upon at this time. Additionally, your old servers may not even work with an upgraded OS.
Deploying CentOS® 6 Extended Lifecycle Support (ELS) from CloudLinux allows all of your fixes, patches, and so forth to continue operating just as they do today, except they will run on our repos.
Conclusion
Staying with CentOS 6 after it goes EOL is a sound decision, provided you take extra precautions. ELS for CentOS 6 will help you keep production Linux systems updated and secure — addressing all currently emerging CVEs.
Sign up here: https://www.cloudlinux.com/extended-lifecycle