Meet AccelerateWP in your CloudLinux Manager and the new SmartAdvice plugin for WordPress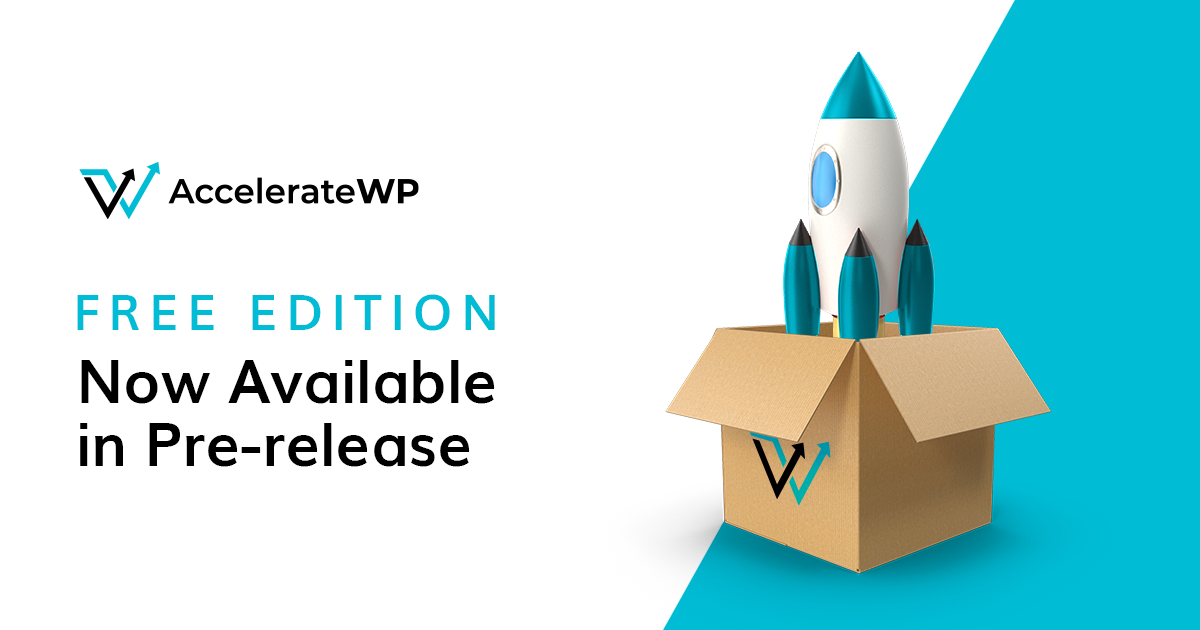 AccelerateWP is ready for liftoff! The core features of AccelerateWP – performance analysis and improvement – are now available in "Pre-Release" status and can be enabled on all Shared Pro & Solo licensed servers. These core features are forever-free for hosters and website administrators and are ready for testing in production environments.
You've heard us talking about AccelerateWP, our WordPress optimization suite, since its March beta release. It's a key tool that helps website owners optimize their WordPress sites and grow businesses for hosters. Almost 90% of websites on CloudLinux servers rely on WordPress. That's why our product team continues to invest in development to create easier and cost-effective tools for optimizing performance and reducing support incidents.
With more than a million websites benefiting from AccelerateWP, we're excited to share that we've just pre-released the AccelerateWP to the stable version of Cloudlinux OS Shared Pro and Solo.
AccelerateWP is rolling out now and will be available with OS updates in your CloudLinux OS Shared Pro or Solo server. Optimized for Apache servers and ready to deliver in three core areas, which will remain forever-free:
Faster performance: Through PHP X-ray analysis, websites are analyzed for optimization at every level.
Smarter operations: Unique SmartAdvice technology uses the analysis to make recommendations for speeding up slow websites.
Seamless integration: Site owners can automatically activate the advised performance improvements.


Roadmap for AccelerateWP
We also have plenty of features in the pipeline that our teams are working hard to deliver – including a premium offering with an automated billing and provisioning API that will enable user-specific provisioning and billing for premium AccelerateWP features.
We appreciate any feedback on existing or planned functionality, and we ask that you provide your feedback and requests regarding our future plans here.
What does AccelerateWP mean for hosts, and how does it drive revenue?
Hosting providers should consider the value of offering AccelerateWP as part of their hosting service. AccelerateWP helps hosting clients automatically identify and fix slow WordPress sites on a server, works out of the box, and comes with a simple-to-use admin UI.
AccelerateWP solves some key problems faced by hosting providers:
Website performance-related support tickets are reduced because AccelerateWP identifies slow domains on a server and offers automated fixes, pre-empting customer tickets and allowing teams to look up the reason for slow websites with Autotracing and Php x-ray.
Customer acquisition is easier within the highly competitive WordPress niche because AccelerateWP allows companies to offer a comprehensive hosting plan portfolio, with out-of-the-box optimization features and secure server-wide caching solutions.
By using AccelerateWP, hosting providers can reduce performance-related churn, while generating more revenue from WordPress hosting through offerings that are more competitive and engaging.
Let's get started!
AccelerateWP is a feature included in CloudLinux OS. If you are using a Shared PRO or Solo license, you will see it in your CloudLinux OS manager interface with OS updates. Pre-release allows you to test Free part of AccelerateWP feature on the production environment. Meanwhile Premium part of AccelerateWP is still and Beta and planned to be rolled out next year - Q2, 2023.
If you're participating in the beta program, you can still upgrade your server to get access to the upgraded UI and new features. All of the features still in beta (including the premium features) will remain unaffected.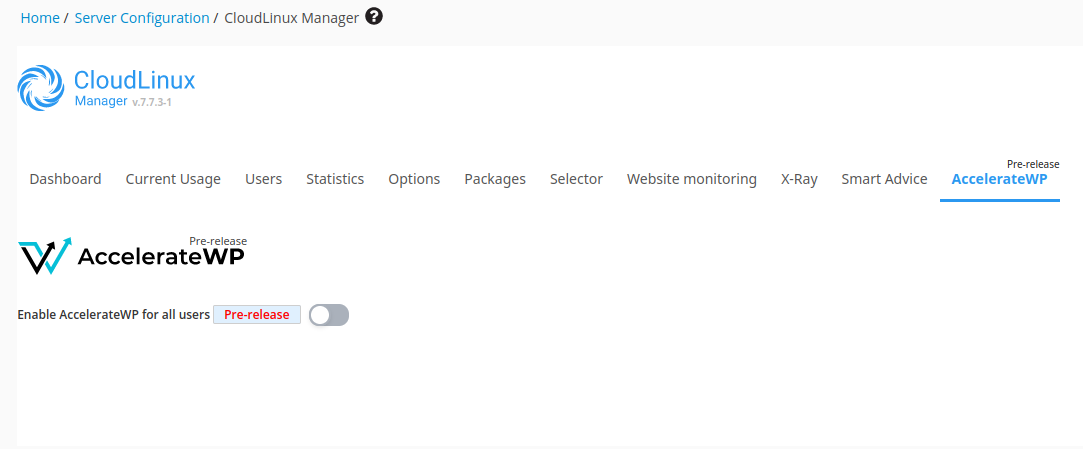 Once you enable AccelerateWP, the SmartAdvice functionality will be available for website admins inside cPanel and through the WordPress plugin.
Please note: AccelerateWP is available on cPanel servers only. In addition, AccelerateWP is optimized for Apache Web Server and is not officially supported on LiteSpeed Web Server. However, some LiteSpeed users have reported performance increases after enabling AccelerateWP.
To be directly notified about new software support, please upvote needed functionality on our features board: Plesk, DirectAdmin and LiteSpeed support.
All the documentation and activation instructions can be found in our documentation for server admins and for website admins. We are here to help if you leave a comment right under this post.