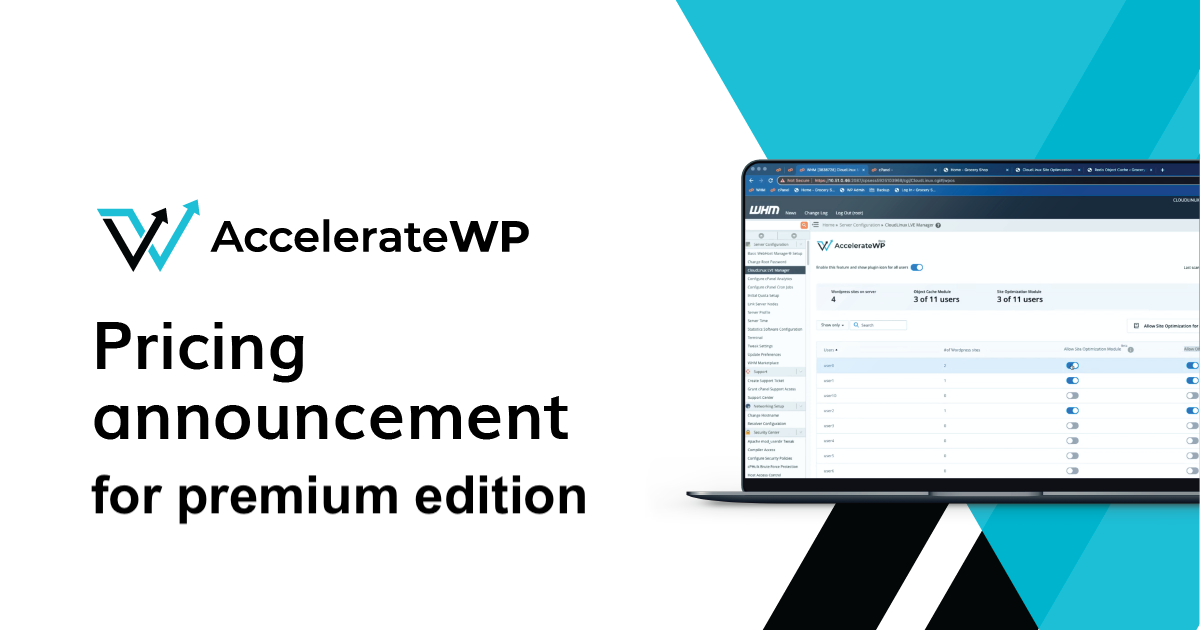 It's been five months since the AccelerateWP Beta program launched. More than 100 hosting providers and more than 500 websites joined the program using AccelerateWP optimization and provided positive feedback on performance improvements. Until now, the program has focused primarily on Apache servers, with a goal to become the best performance optimization utility for WordPress. As previously announced, the commercial launch of AccelerateWP is planned for Q2 2022. However, our Beta program participants already have access to offer the core optimization and premium Object Cache features of AccelerateWP to their users for free. Now, after working closely with beta participants and their customers to better quantify the value of AccelerateWP, we have reached an exciting milestone. Today, we are ready to share our official pricing and packaging guide for premium features of AccelerateWP. This will also allow beta program participants to create marketing collateral for their end-users and package their hosting plans accordingly.
As promised from the beginning, AccelerateWP is included for free with the CloudLinux OS PRO and SOLO licenses. It offers a list of functionality to customize a performance enhancement plan for WordPress sites on your servers - based on real data. Our goal is to help create better WordPress hosting for our clients and their end-customers.
Below you will see the suggested price and billing model for premium features of AccelerateWP. You can begin building or even selling plans/packages with the confidence that this pricing is final. Keep in mind, all active AccelerateWP users are completely free until March 2023!
---
Update Aug 3, 2022, clarification on pricing:

AccelerateWP Standard Edition - FREE for all users on the server
Features included:
SmartAdvice
Static Full-Page Cache
Browser Cache Support
Cache Logged-in Users
LazyLoading images & iframes
And more!
AccelerateWP Premium Edition - $1.20/user/mo (Suggested retail price: $3/user/mo).
Features included:
Object Caching
More coming soon!
We want to stress that AccelerateWP is a free feature included in CloudLinux OS Solo and PRO licenses. Based on our beta program data, a large portion of websites on CloudLinux OS servers will benefit from standard editions of AccelerateWP features, which are free. Only the websites that have been profiled and "very likely to have a substantial performance boost" will be advised to buy premium features like Object Cache. Based on our research, there is no more than 7% of such websites on CloudLinux servers right now. That's why we don't see the reason to invest the development effort for free, but we also would like to offer such a premium boost for those who require it. Premium features - is not our pricing strategy. If users choose not to buy premium, you will not be charged.
---
AccelerateWP, including Smart Advice and everything included in the core website optimization utility, will be free of charge for all CloudLinux OS PRO and SOLO servers.
The hoster will only be charged for premium users who have at least 1 domain with at least one premium feature activated ( such as Object Caching). Hosting providers will be charged for $1.20 per user.
This pricing model was developed with Hosting providers' revenue growth in mind. The suggested retail price for premium features allows you to offer the most competitive and fully automated WordPress optimization that now exists on the market. From our side, we assure you that all changes will be based just on premium features activation, which means we will not charge you just in case premium features were activated, and according to our forecast it will be rare cases.
Meanwhile, we highly recommend to our Beta testers to make a sales enablement for AccelerateWP on their websites now during the beta program, while our product team is entirely focused on each case assistance manually. Request any marketing or technical help via your program assistant to include AccelerateWP in your WordPress plan. Now, you have a real chance to contribute and influence our billing functionality integration and end-user notification system that will be finalized by the commercial launch.
We are here to guide you through the process and look forward to your feedback and suggestions.