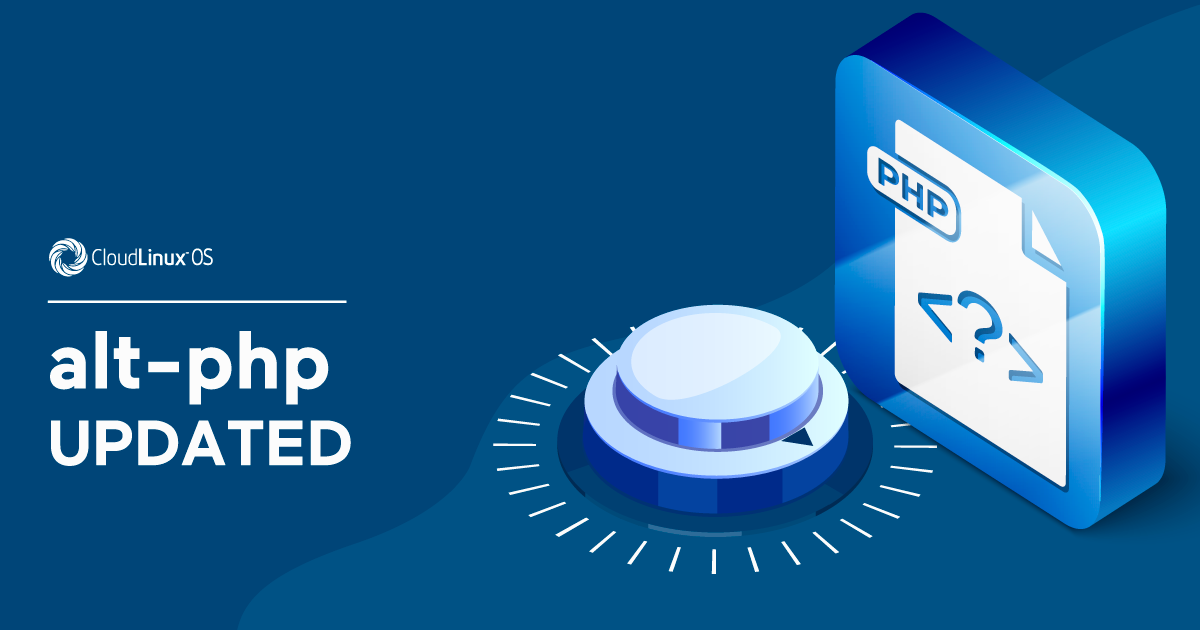 We have stopped the current alt-PHP rollout due to the critical issues found in alt-php80.
All alt-PHP packages from this rollout except the alt-php80 packages will be released to our production repository on Wednesday, December 9th.
We will start the alt-php80 rollout separately after fixing these issues. Follow our blog for updates.
New updated Alt-PHP packages have been scheduled for gradual rollout from our production repository.
Rollout slot: 3
Rolled out to: 0.01%
ETA for 100% rollout: December, 7
Changelog
alt-php51-pecl-ext-1-41
alt-php52-pecl-ext-1-117
alt-php53-pecl-ext-1-143
alt-php55-pecl-ext-1-123
alt-php56-pecl-ext-1-90
alt-php70-pecl-ext-1-72
alt-php71-pecl-ext-1-60
alt-php72-pecl-ext-1-61
Updated timezonedb to version 2020.4
alt-php54-pecl-ext-1-137
Updated timezonedb to version 2020.4
Fixed mongodb extension with CloudLinux 8
alt-php73-pecl-ext-1-33
alt-php74-pecl-ext-1-16
ALTPHP-990: Added the ZeroMQ module
Updated timezonedb to version 2020.4
alt-php74-pear-ext-1-12
Added build for CloudLinux 6
alt-icu-65.1-3
Removed providing system pkgconfig
alt-nodejs12-nodejs-12.19.1-1
alt-nodejs14-nodejs-14.15.1-1
alt-php70-pecl-ext-1-71
ALTPHP-988: Rebuilt with jsmin v. 3.0.0
alt-php71-pecl-ext-1-59
ALTPHP-988: Rebuilt with jsmin v. 3.0.0
alt-php72-pecl-ext-1-60
ALTPHP-988: Rebuilt with jsmin v. 3.0.0
alt-php73-pecl-ext-1-31
ALTPHP-988: Rebuilt with jsmin v. 3.0.0
ALTPHP-995: Fixed the leveldb extension
alt-php74-pecl-ext-1-14
ALTPHP-988: Rebuilt with jsmin v. 3.0.0
alt-php44-mysql-meta-2-9
alt-php51-mysql-meta-2-9
alt-php52-mysql-meta-2-9
alt-php53-mysql-meta-2-9
alt-php54-mysql-meta-2-9
alt-php55-mysql-meta-2-9
alt-php56-mysql-meta-2-9
alt-php70-mysql-meta-2-9
alt-php71-mysql-meta-2-9
alt-php72-mysql-meta-2-9
alt-php73-mysql-meta-2-9
alt-php74-mysql-meta-2-9
Added MariaDB 104 bindings
alt-php-config-1-40
Fixed detection MySQL version
alt-php44-mariadb104-4.4.9-23
alt-php51-mariadb104-5.1.6-26
alt-php52-mariadb104-5.2.17-32
alt-php53-mariadb104-5.3.29-23
alt-php54-mariadb104-5.4.45-25
alt-php55-mariadb104-5.5.38-17
alt-php56-mariadb104-5.6.40-6
alt-php70-mariadb104-7.0.33-6
alt-php71-mariadb104-7.1.33-5
alt-php80-8.0.0s-2
Updated to the final version 8.0.0
ALTPHP-1026: Fixed directory for scanning ini files
ALTPHP-1029: Fixed adding records for alt-php80 in the selector.conf
ALTPHP-1028: Fixed scripts to make usage of PHP 8.0 possible for the panels
ALTPHP-1025: Added lsphp to the "Requires" of the php-cli package
alt-php80-pecl-ext-1-1
Initial build with apcu, dbase, lzf, mailparse, memcached, psr, raphf, timezonedb, and zmq
alt-php73-7.3.25-1
Updated to version 7.3.25
alt-php74-7.4.13-1
Updated to version 7.4.13
Update command
yum groupupdate alt-php
Immediate update (via bypass)
yum groupupdate alt-php --enablerepo=cloudlinux-rollout-3-bypass
Install command for PHP80 (via bypass)
yum install alt-php80* --enablerepo=cloudlinux-rollout-3-bypass