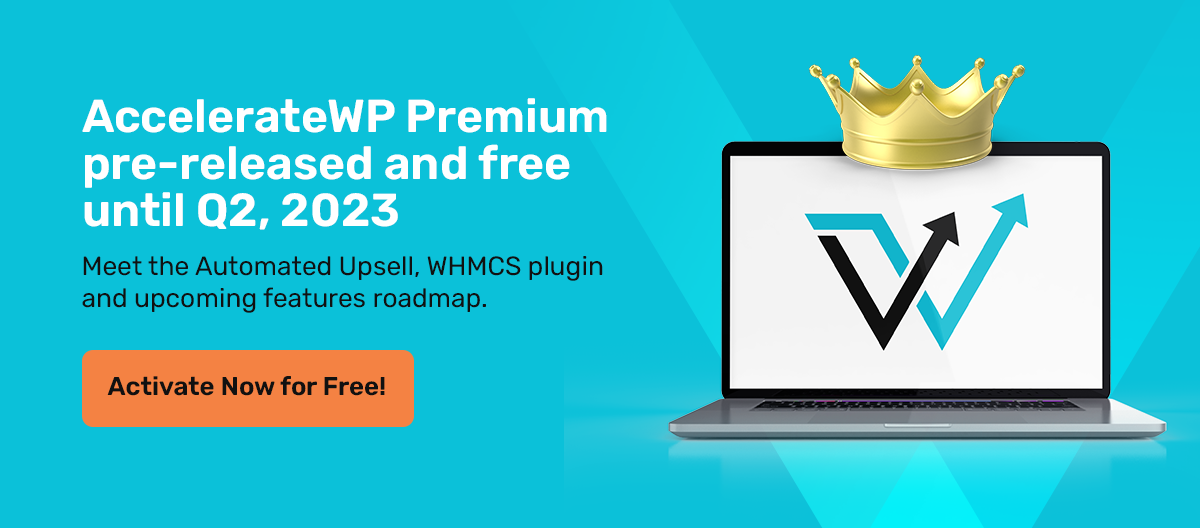 Automated Upsell, WHMCS plugin and more.

As many of you already know, we offer AccelerateWP in two versions: AccelerateWP Free and AccelerateWP Premium. Our Free edition offers valuable website optimization and is included for free in the CloudLinux OS Solo/ Admin Shared Pro licenses. The free version is sufficient to optimize more than 90% of all WordPress websites hosted on servers with CloudLinux OS.
However, some websites need advanced optimization capabilities and that's where AccelerateWP Premium comes into play.
Our Premium edition can prescriptively analyze and repair a broader range of performance issues, thanks to its Object Caching capabilities, Image Optimization, Critical path CSS, CDN services and more (all of which will be included in AccelerateWP premium by May of this year).
Our goal is to give the hosting providers all needed tools to offer a competitive premium WordPress hosting at the same, highly competitive prices their customers enjoy. More importantly, we are streamlining the upsell process for CloudLinux customers to promote revenue growth based on impactful value.
---
After a year of testing across more than 3000 servers, we are happy to announce that we are beginning to roll out AccelerateWP Premium for all CloudLinux OS users.
Enable AccelerateWP Premium edition now to make your WordPress hosting more competitive. In addition, during this pre-release stage, we still offer the Beta program benefits, including free-of-charge usage, until Mar 31, 2023. That means that now is the best opportunity to get started with AccelerateWP Premium's advanced optimization features.
---
What does AccelerateWP Premium include?

Billing Automation and Provisioning



We provide an AccelerateWP WHMCS add-on module that enables you to automatically upsell a hosting plan to include advanced WordPress optimization – all inside of cPanel and Plesk.
The billing automation toolset also includes automated provisioning via command line interface so that hosting providers that do not use WHMCS can build a custom billing integration. That means that you can configure billing in a way that suits your hosting business. Whenever a specific add-on or supporting hosting plan is purchased, AccelerateWP can automatically be activated.
With AccelerateWP Premium, providers can enjoy Redis instance automation with per-user deployment and security. This deployment is advice-driven: AccelerateWP obect caching enables you to automate deployment of Redis instance resources to only the customers whose websites will benefit from itWhen combined with our billing integration, this means that you can now model your hosting packages to charge specifically for consumption of Redis resources.
AccelerateWP also includes built-in intelligence that prevents conflicts that can degrade website performance and even break some WordPress websites.
Coming Q2 2023: Critical path CSS, Image Optimization, CDN
Additional AccelerateWP Premium functionality is our focus now. This includes Critical CSS file generation (or Critical path CSS) services, which dramatically improves perceived loading speeds by improving the "First Meaningful Paint" content. This happens because the browser will receive the necessary CSS to render the most meaningful website content first. Dramatically improving the website visitor experience and impacting critical metrics for hosting end-customers.
Our continued feature work also includes Image optimization – which automatically resizes and compresses website images to reduce throughput and reduce page load times.
Another feature we'll be including with AccelerateWP Premium is the CloudLinux Content Delivery Network (CDN). Providing a default, single-click deployment CDN service for website owners.

Licensing, pricing, and packaging

Licensing
Currently, the AccelerateWP Premium beta program benefits are still in place and there is no charge at the moment for AccelerateWP Premium.
From the 1st of April 2023 CloudLinux will run a monthly usage report that will list users with AccelerateWP premium enabled for at least one day in the month. AccelerateWP usage can easily be linked to billable consumption which ensures that our customers remain profitable. AccelerateWP Premium licenses will cost $1.20/user per month. Each website will have an option of 30 days trial period meaning that we will not charge you for the first month at all. You may obviously choose whether or not to extend this trial period to your customers as well.
Pricing and packaging options.

Thanks to AccelerateWP SmartAdvice and the automated billing integration we recommend to hosting providers that they offer AccelerateWP Premium as an add-on or upsell to existing hosting plans.
It means that you can offer AccelerateWP Premium to the customers that will benefit the most, in turn enhancing the perceived value of your hosting offering. Some hosting providers may also wish to automatically include AccelerateWP premium in specific, higher-tier WordPress hosting plans as a value-add that's automatically included.
We have a suggested retail price for AccelerateWP of $3.00/user per month. That could be, for example, billed as an upcharge for premium WordPress performance plans.

How to Activate AccelerateWP Premium and Get started

Following CloudLinux OS license now includes AccelerateWP – CloudLinux OS Shared Pro, CloudLinux OS Solo, and CloudLinux OS Admin.
Please review the system requirements and limitations:
AccelerateWP Premium edition:
cPanel/Plesk
Apache Web Server
Billing limitations specifically:
Plesk/cPanel resellers not supported (coming soon!)
Learn more about system requirements in technical documentation.
If you are as excited as we are and you don't want to wait for the rollout to being using AccelerateWP Premium, you may update your system to the latest version from the Beta repository, by running the following command:
yum update accelerate-wp lvemanager alt-php-xray -y --enablerepo=cloudlinux-updates-testing

Otherwise, the gradual completion of roll-out to the stable repository will finalize by March 6th at the latest.
Important note for our Beta Testers: Please follow this guide in our documentation to upgrade AccelerateWP Premium (BETA) to the latest version.
Activation as server admin

1. Activate AccelerateWP for all end-users

by toggling the switcher in the corresponding tab.




While activating, check the box "Premium Features" to enable them.
Note: If AccelerateWP is already enabled, a link will be displayed "Activate Premium Features".

2. Integrate Billing for automated upsell


Install WHMCS module
or
Integrate

in-house or 3rd party billing for provisioning access based on subscription.

3. Create the hosting packages and/or add-ons that will entitle subscribers to AccelerateWP premium features.

4. Set upgrade URL that will be provided to users when they intend to subscribe to a premium supported hosting package or add-on.

5. Test upgrade flow

Activation as website admin


1. Once the premium features are enabled by the server administrator, SmartAdvice will notify users via cPanel/Plesk as well as via the WordPress admin interface about premium solutions for website acceleration (based on the specific website's needs).

2. This user can then click "Apply" in SmartAdvice to deploy the performance improvements.

If they are on hosting package that includes premium features, the user can simply install them with a single click
If no premium subscription/entitlement is found, the user is prompted to upgrade and provided with the upgrade URL specified by the server administrator
Upon upgrading, the subscription is detected and the features enabled