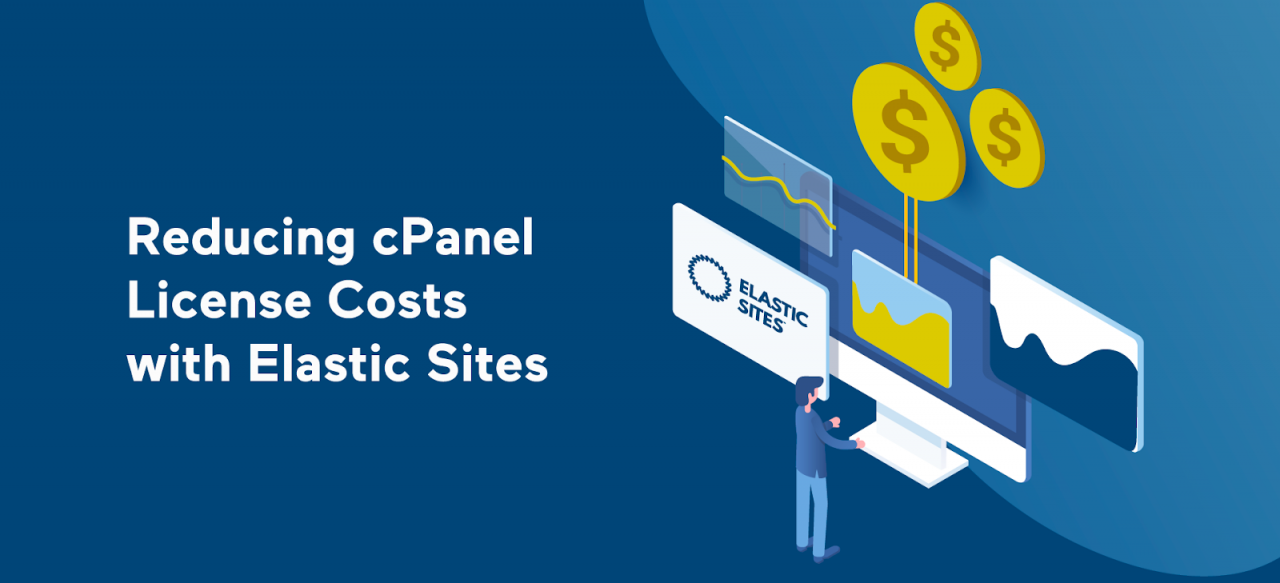 cPanel price increases: Now it's even more important to control your license costs.
You may have read about cPanel's price increases.
It may seem shocking at first glance—some shared hosts will pay 3 to 5 times more per server in license fees.
But, in reality, most hosts will see only a $0.20 per account increase in fees per month.
While it can take only $1 per account to make hosting unprofitable, my view is that hosters with competitive pricing tiers will be able to swallow the costs or pass them on to their customers.
The picture looks different in cases where VPS with cPanel is sold, whether in managed or unmanaged settings.
With cPanel, Solo licenses are $15/month, and an Admin license (for 5 user accounts) is $20/month.
But licensing costs don't stop there.
You must also consider a backup, security software, Softaculous, etc.
These can quickly get out of hand, mounting up server licensing costs to $40/month or more.

This is where Elastic Sites comes to the rescue.
The idea behind Elastic Sites is to sell high-resourced hosting accounts on a low-density shared server.
For example, a 32-core server with 15 elastic sites, at 2 cores per site, adds up to just $62.45 per month.
​

Software

​

Monthly license fee (USD)

​cPanel Premier (30 accounts)
​$30
​Imunify360 (30 users)
​$25
​Softaculous
​$1.50
​jetBackup
​$5.95
​TOTAL
​

$62.45
By contrast, 15 VPS servers with 2 cores per site, comes to $34.45 per VPS, or $516.75 in total, per month.
​

Software

​

Monthly license fee (USD)

​cPanel Solo

​

​$15

​

​Imunify360 (1 user)

​

​$12

​

​Softaculous
​$1.50

​

​jetBackup
​$5.95
​TOTAL
​$34.45 x 15 =

$516.75
For the same software but more resources, Elastic Sites saves $450 every month.
Because there is no overhead in running an extra kernel, and apache and cPanel instances, there is a significant saving in RAM and CPU—the same 2-core instances will be much faster and can handle a much higher load.
With 30 VPSs on a server at $1 per core each, the economies of scale become even more impressive.
In this scenario, Elastic Sites remains at $62.45/month.
Offering the same as a VPS package will set you back $1,033.50/month.