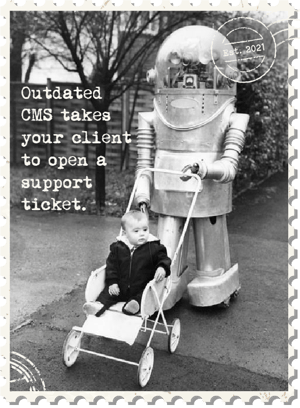 Common Website Performance Issues in Shared Hosting
Thousands of sites could be hosted on one physical server, and just one application could affect all other sites hosted on the server. Shared host providers must be diligent with monitoring and performance tuning on these servers to ensure that applications run smoothly and don't have malware running on them (learn more about shared hosting security). With the right tools, shared hosting providers can improve site performance for customers while boosting overall revenue.
Customer Tickets Involve Performance Complaints
In a shared hosting environment, most customers are small website owners running on a content management system (CMS) who don't understand the impact of plugins or using outdated software.
WordPress
WordPress is the most commonly found CMS software found on these small websites, but users generally don't understand the dangers of installing plugins indiscriminately. Even plugins with millions of installs can fall victim to vulnerabilities or optimization failures. In many scenarios, plugin developers don't code for optimization, which is fine until the website receives enough traffic where queries and other page requests cause serious performance degradation.
Plugins
100% of websites use at least one ads plugin, menu plugin, search function, search filtering, and output buffering plugins to replace HTTP with HTTPS. For a small site with little traffic, this may not display noticeable performance issues until traffic increases, and by this time the plugins are fully integrated into the site. Removing them is sometimes not an option for site owners, but replacing them with more optimized options is a beneficial solution for both the site owner and the shared host provider hosting the site.
PHP
Another issue common with sites running CMS software is they often run on an outdated version of PHP. Over 15% of WordPress sites use outdated vulnerable PHP versions.
With thousands of supported sites on just a single server, shared host providers must stay proactive with their approach to PHP-related issues. They must also have a way to quickly identify an issue and make suggestions to customers who log tickets about performance and other PHP-related errors.
Tickets on performance issues are difficult to troubleshoot, and they can pile up when performance affects an entire server. If administrators are unable to resolve the issue quickly, it could mean the loss of revenue and several customers might leave to another provider.

And how many of your customers' tickets involve Performance Complaints? Feel free to share your experience about Maintaining Site Performance on Shared Hosting in the comments.
To learn more about Common Website Performance Issues in Shared Hosting, please review our Case study with Hosting4Real, where Founder, Lucas Rolff, talks about common problems they are facing in terms of customer's slow websites and other performance issues.