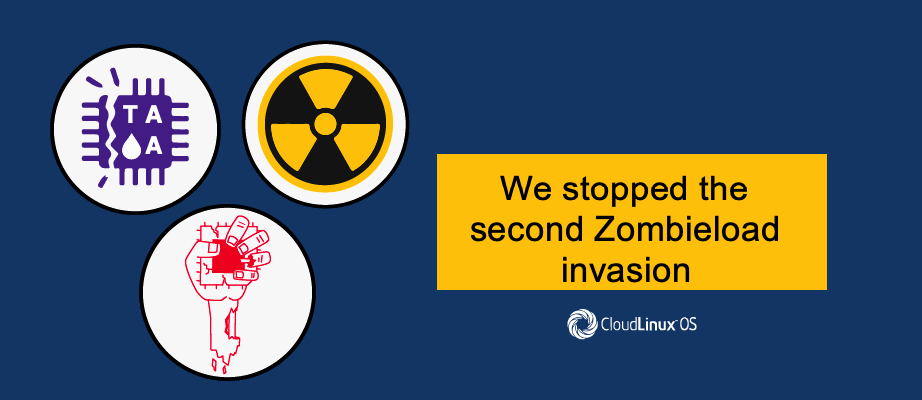 CloudLinux 7 and CloudLinux 6 Hybrid kernel with the fix for the Zombieload2 vulnerabilities is now available for download from our production repository.
To get ongoing information related to the Zombieload2 vulnerabilities, follow our KernelCare blog.
Update
To secure your CloudLinux 7 and CloudLinux 6 hybrid servers, you should proceed as we did with the previous MDS vulnerability: update microcode along with the kernel update.
For CloudLinux 7, run the command:
yum upgrade -y microcode_ctl && yum install kernel-3.10.0-962.3.2.lve1.5.27.el7
For CloudLinux 6 Hybrid, run the command:
yum upgrade -y microcode_ctl && yum install kernel-3.10.0-962.3.2.lve1.5.27.el6h
Changelog
CLKRN-542: fix CVE-2019–0155, CVE-2019–0154, CVE-2019-11135, CVE-2018–12207
CLKRN-539: CVE-2019-15098: ath6kl: fix a NULL-ptr-deref bug in ath6kl_usb_alloc_urb_from_pipe()
CLKRN-539: x86/speculation/mds: apply more accurate check on the hypervisor platform
CLKRN-539: hpet: fix division by zero in hpet_time_div()
CLKRN-539: sched/numa: Move task_numa_free() to __put_task_struct()
CLKRN-539: sched/fair: Don't free p->numa_faults with concurrent readers
CLKRN-539: tty/ldsem, locking/rwsem: Add missing ACQUIRE to read_failed sleep loop
CLKRN-539: tcp: fix tcp_ecn_withdraw_cwr() to clear TCP_ECN_QUEUE_CWR
CLKRN-539: sched/fair: don't assign runtime for throttled cfs_rq
CLKRN-539: signal/pid_namespace: fix reboot_pid_ns to use send_sig not force_sig
CLKRN-539: crypto: talitos - check AES key size
CLKRN-539: crypto: ghas - fix unaligned memory access in ghash_setkey()
CLKRN-539: x86/ptrace: fix possible spectre-v1 in ptrace_get_debugreg()
KMODLVE-292: preserve task's original umask when entering LVE