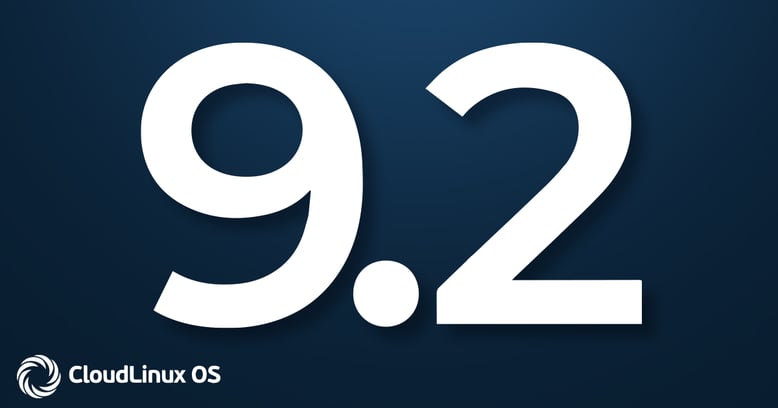 The CloudLinux OS team is happy to announce the availability of the new 9.2 version for our customers.
CloudLinux OS 9.2 is built upon the AlmaLinux release, introducing a range of enhancements and features. This update streamlines the delivery of workloads, applications, and services across various environments, minimizing the required effort and workload time.
Notable additions in this version are the crucial security updates, such as the realmd system role, a SCAP profile, and Ansible content, which contribute to simplified security management and compliance enforcement through enhanced system checks. Furthermore, improvements have been made to application streams, encompassing updates to compilers, runtime languages, databases, and web servers. Please see the full AlmaLinux release notes for more information.
The main changes are the following:
kernel module kmod-lve-2.1-15

updated module streams:

Python 3.11
nginx 1.22
PostgreSQL 15
Non-panel and custom panel limitations
1. In the non-panel environment, for now, we can guarantee all of the following CloudLinux Shared components functionality:
LVE limits
LVE Stats
MySQL Governor
CageFS
PHP Selector
HardenedPHP
Apache mod_lsapi PRO
2. Due to integration restrictions with some panels, we are unable to retrieve panel-related information (e.g. a list of domains or handlers used). As a result, we are currently unable to provide the following components:
PHP X-Ray
Slow Site Analyzer
Website Monitoring Tool
Ruby selector
Centralized Monitoring
3. CloudLinux OS Solo/Admin editions are restricted to one and five users respectively on the UI level and might not work as expected.

4. For the custom panel installations, once integration with the CloudLinux components is set, the following components will work in the CloudLinux OS 9.2 environment:
LVE limits
LVE Stats
MySQL Governor
CageFS
PHP Selector
HardenedPHP
Python Selector
NodeJS Selector
Apache mod_lsapi PRO
PHP X-Ray
Slow Site Analyzer
Reseller limits
Full support for all control panels ETA

We're working now to make CloudLinux OS 9.2 available in other popular control panels: cPanel, Plesk, and DirectAdmin. We expect to introduce the full support of the CloudLinux OS 9.2 editions – Shared/PRO/Admin/Solo in the year 2023.


How to install

You can install CloudLinux OS 9.2 on a new server from the ISO image or convert the existing AlmaLinux 9.2 server to the CloudLinux 9.2 Please refer to the documentation for details.

How to upgrade

We've started a gradual rollout of the updated cloudlinux-release package that brings necessary repo updates for 9.2. The Stable rollout will take 10 days so those of you who are excited to get started right away, please follow these steps to upgrade CloudLinux 9.1 to 9.2 manually:

1. Update cloudlinux-release package from rollout slot


# dnf --enablerepo=cloudlinux-rollout-3-bypass install cloudlinux-release

2. Do system upgrade
# dnf updateAfter May 31, 2023, CloudLinux OS 9.2 will be available from general repository and could be updated just with following command:

# dnf update