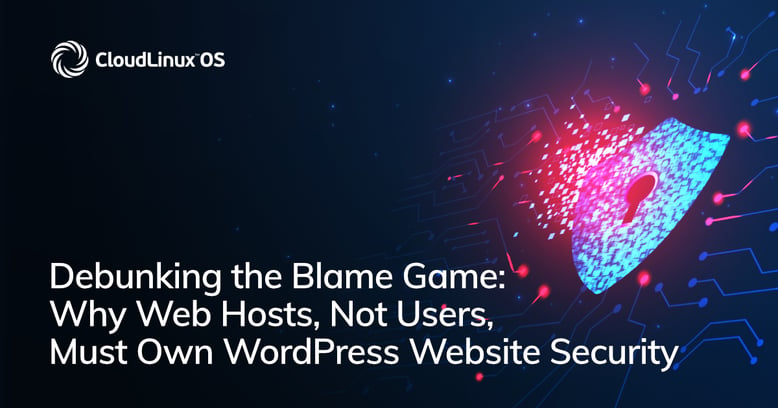 In today's digital landscape, website security is of paramount importance, especially for WordPress sites. A common misconception is that the responsibility for website security falls squarely on the end user or website owner. However, this perspective is short-sighted and neglects the intricate and ever-evolving nature of the WordPress ecosystem. In reality, web hosts should step up and take charge of their customers' website security, putting an end to the blame game. Here's why:
Zero-Day Vulnerabilities: A Constant Threat: End users face an uphill battle in maintaining robust site security. With plugin and theme developers taking weeks to patch security vulnerabilities, and custom WordPress sites requiring additional time for updates, websites are left exposed. Education alone won't rectify these issues.


Password Attacks: A Multifaceted Challenge: While better password management can be achieved through education, hackers employ a variety of techniques, including brute force, password reuse, and keyloggers. It's unrealistic to expect end users to tackle all these threats single-handedly.


Undetected Threats: Hidden Infections Lurking on Websites: Crafty hackers often keep infections concealed on end-user websites. Lacking advanced tools for malware detection, website owners might remain unaware of the issue until search engine rankings plummet. Unable to pinpoint the source of attack, users frequently blame their web host. Pointing the finger back at the end user is counterproductive and may drive customers to seek alternatives.


Government Security Recommendations: A Call for Shared Responsibility: CISA's "Security-by-Design and Default" emphasizes that "The burden of security should not fall solely on the customer" and advocates for software manufacturers to assume responsibility for their customers' security outcomes. Given the ever-changing WordPress landscape, web hosts are best positioned to champion their customers' security needs.


Trust and Reputation: The Cornerstones of Web Host Success: When web hosts prioritize website security, they foster trust with their customers, paving the way for long-lasting business relationships, improved customer retention, and a sterling industry reputation.


A Competitive Edge: The Power of Robust Security Measures: By offering top-notch security measures, web hosts can distinguish themselves from competitors, attract more customers, and ultimately boost revenue and growth.


Reducing Support Costs: The Benefits of a Secure Website Infrastructure: A secure website infrastructure leads to fewer security-related support requests, reducing costs for the web host and freeing up resources for other business endeavors, like product development or marketing.


Shared Hosting, Shared Responsibility: A Collective Approach to Security: In shared hosting environments, the security of one website can influence the security of others on the same server. By assuming responsibility for website security, hosts can safeguard their entire infrastructure and protect all customers on their platform.


Expertise and Resources: Leveraging Web Host Security Assets: Web hosts typically have access to security experts and resources unavailable to end users. By embracing responsibility for website security, web hosts can offer their expertise and resources, benefiting both themselves and their customers.


Proactive Security Measures: Ensuring Greater Protection for WordPress Websites: Web hosts can implement a wide array of proactive security measures, including intrusion detection and prevention systems, firewalls, and regular vulnerability scans. By taking ownership of website security, hosts can utilize these tools to provide better protection for end-user websites.
It's high time web hosts accept responsibility for the security of their customers' WordPress websites. By doing so, they can cultivate trust and reputation, gain a competitive advantage, reduce support costs, and ensure the overall security of their infrastructure. As we face increasingly complex and multi-vector website attacks, web hosts must employ advanced security solutions to prevent and resolve incidents.