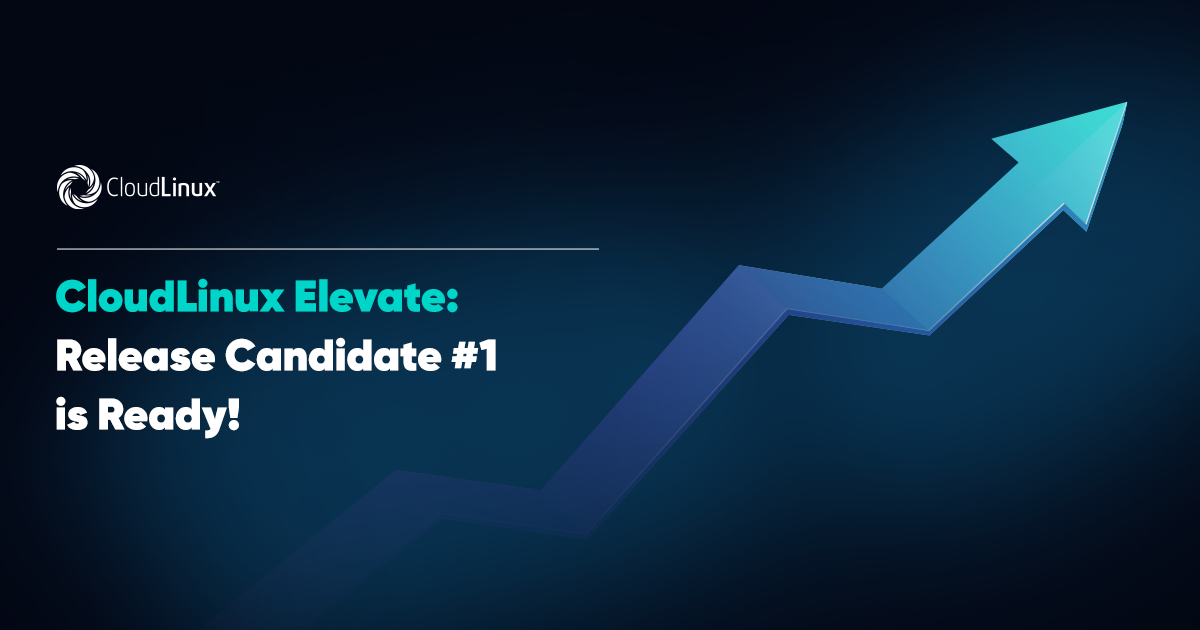 CloudLinux Elevate, the project designed to support migrations between major versions of RHEL derivatives, has reached an exciting milestone with the release of its first candidate version. With various improvements and enhancements of cPanel integration, the Elevate project is rapidly progressing towards its stable release. This blog post will delve into the improvements brought by CloudLinux Elevate's release candidate #1 and explain why now is the perfect time to plan your migration.
Table of contents:
About CloudLinux Elevate
The CloudLinux Elevate project was conceived to facilitate smooth migrations between major versions of RHEL derivatives. With a focus on simplicity and efficiency, CloudLinux Elevate aims to streamline the process of upgrading CloudLinux 7.X systems to the latest CloudLinux 8.X version. Key to this project's success is the utilization of the Leapp utility, a powerful tool that plays a central role in the upgrade process. We must stress that all Elevate operations should be conducted by a system administrator or DevOps with an advanced expertise level.
Also, Panel integration is a critical aspect of the Elevate projects. We are pleased to inform you that we have made substantial improvements to our integration with cPanel, so let's delve into the details in this release.
Improvements in CloudLinux Elevate Release Candidate #1
The CloudLinux Elevate project has been diligently working towards its goal, and with the release of candidate #1, significant progress has been made since the previous BETA release. This Release Candidate #1 brings a host of enhancements and fixes to ensure a smoother and more reliable upgrade process. Some notable improvements include:
Enhanced Panel Support: Elevate now allows upgrade attempts with cPanel, integrated panels, or even unknown panels.
Rollout Repositories Utilization: During the upgrade process, CloudLinux and Imunify360 rollout repositories are utilized to ensure access to the latest packages.
Proper Handling of RPM Packages: A new workaround has been introduced to handle RPM packages with failures in uninstall scriptlets, improving overall stability.
Warning Mechanism: Prior to initiating the upgrade, a warning with potential consequences is displayed, ensuring users are informed before proceeding.
Automatic Repository Configuration: Elevate automatically replaces .rpmnew repository configurations for CloudLinux-related repositories, saving time and effort.
Multiple MySQL/MariaDB Installations: The upgrade process now detects different types (CL/upstream) and multiple installations of MySQL/MariaDB and handles them accordingly.
Web Server Detection: Installed web servers are detected, and users are warned if they're present, ensuring a smoother transition.
RAM Requirement Check: For servers with panels, Elevate checks for minimal RAM requirements to ensure the system meets the necessary specifications.
Repository Restoration: After the upgrade, package repositories' enabled/disabled states are correctly restored.
Kernel Upgrade Handling: Elevate avoids checking for the newest kernel if an LVE (CloudLinux-patched) kernel is already in use, preventing unnecessary interruptions.
CageFS XFS Mountpoints: The upgrade process continues even if access errors occur for CageFS XFS mountpoints.


How to Migrate
Migrating your CloudLinux 7.X system to CloudLinux 8.X using Elevate is a straightforward process. For detailed instructions, refer to the official CloudLinux documentation guide. Additionally, you can follow the step-by-step video guide.
Release Candidate Schedule


As we're gearing up for the stable release of CloudLinux Elevate, we're super excited to move things faster! And guess what? We're not doing it alone – we're counting on you, our awesome customers, to be part of this acceleration process.
Your feedback and conversions are like jet fuel for our progress. Seriously, you play a crucial role in making this release happen sooner rather than later. So, stay in the loop and keep an eye on our project's timeline. Together, we'll rock this upcoming release!
Here's what's on the horizon: